---
We usually have a few people on our list that we know just what gift we want to give them, then often struggle with some of the rest. Our gift boxes can be the answer to that struggle.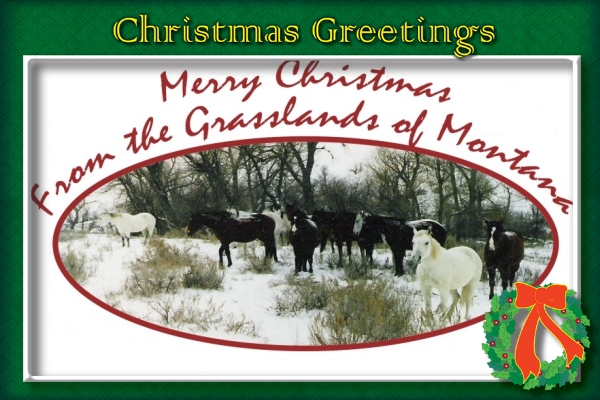 The box contains 5 bread mixes, Frybread, Pancake, Sweet Bannock, Savory Bannock, JC Biscuits, and 1 dressing/dip mix. Included is your personal greeting along with delivery confirmation. We place our "Merry Christmas from the Grasslands of Montana" picture on the top of the box. Shown below is a choice of pictures we place on the inside cover of the box, click on your choice. If this box is being sent as a gift to an address other than your own let me know your personal message and where you would like this box sent.
The cost for each Gift Box is $ 29.00 either $10 standard shipping for a total of $39 or $15 priority shipping for a total of $44, that includes delivery confirmation. Just click on which box you want and add it to your shopping cart.
If you would like for us to ship the boxes directly to the person you can contact us at info@MontanaGrasslandMixes.com or call us at (406) 785-2321 and give us the address.
It doesn't get much easier than that..
Gift Box Content
(Each box contains 1 Stone Trapper Frybread Mix, 1 Porcupine Creek Pancake Mix, 1 Prairie Walker Sweet Bannock Bread Mix, 1 Prairie Walker Traditional Bannock Bread Mix,
1 Prairie Walker Savory Bannock Bread Mix, 1 Garden Gate Salad Dressing Mix)
---
Our family and friends who received the Christmas boxes just loved them, it was the perfect gift. Having you send them out for us was so easy. Thank you for taking care of our Christmas shopping.

-R. Herron
Merry Christmas From
Montana Grassland Mixes