We have packaged dry mixes based on old cow camp, hunting camp and ranch style cooking.
Frybread, Bannock Bread (camp bread), biscuits, and pancakes. Old Time recipes with today's
ease of preparation. Packaged in rich colored bags with eye catching western labels. Our mixes
come from growing up country, from meals around the kitchen table. Our gift boxes feature the
same old time pictures. Handmade from start to finish....Just so Montana!
---
---
A true old time cow camp Frybread recipe. Our mix is easy and complete, all you add is water, either roll out or drop spoonfuls into hot oil using a fryer, sauce pan, or skillet with enough oil for the batter to float. It is so delicious with its crispy outside and warm slightly sweet inside. Melt a little butter on top along with honey, you just have to close your eyes for a moment and savor it.

The warm sepia colored label hints at the history behind Frybread, the enormous herds of buffalo, the wagon trains that rolled across this prairie, the beauty of the vast grasslands of Montana.

Each packet is approx. 1 lb.

$ 5.00 each

>> Shipping Notes <<
---
Think about standing around a Chuck Wagon, a campfire, or coming into a warm country kitchen with the smell of breakfast cooking...coffee, bacon, and old time range or ranch pancakes. Mom made these pancakes most mornings. They are a thin cow camp pancake, delicious with maple or chokecherry syrup. Wrap up your bacon or sausage in one for a perfect breakfast sandwich, stick it in your pocket for later, you are never sure when you saddle up when you will get back. For a delicious easy twist add a second egg, some extra milk and make a pancake crepe, roll it up with fruit and freshly whipped cream.

A summer green package with a sky blue creek. The kind of pancakes that were mixed up out of a chuck box as the sky was showing a hint of morning pink...cattle, horses, and cowboys starting to stir. Include them in gift baskets. So Montana, so country, and so appreciated.

Each packet is approx. 1 lb.

$ 5.00 each

>> Shipping Notes <<
---

---
Bannock Bread Mixes
Bannock is old time camp bread, using the basic staples that a cook would have room to carry. With limited space and no way to keep things cold you could only stock up on canned or dry goods. Bannock was mixed up out of the back of the chuck box, cooked over hot coals or buried in the ground in a Dutch oven. There was nothing like hot bread with a meal, this old hard tack was so good with your plate of beef and beans. At home Bannock requires a cup of milk, place in a cast iron fry pan, on a cookie sheet, or a sheet of tin foil, 20 minutes in the oven or in the barbecue and you have hot bread.
---
Prairie Walker Sweet Bannock Bread Mix
A warm deliciously cinnamon aroma, a perfect breakfast bread. Stir it up while the coffee is brewing, it will be ready when you are. Add some raisins and a light sweet drizzle on top, an excellent reason to roll out at first light.

Rich red package with a dun colored horse. Get up on a hill and look out, you can see and feel kind of an aching loneliness in the beauty of the grasslands.

Each packet is approx. 1 lb.

$ 5.00 each

>> Shipping Notes <<
---
Prairie Walker Traditional Bannock Bread Mix
Our Dad hunted in Canada, they would be out in the bush 30 days, all their supplies packed in on horseback. When they came into camp, usually after dark, the cook would have Bannock in a fry pan propped close to the fire. You could chunk it off and wrap it up to take along on the next dayís hunt. Traditional Bannock is lightly sweet white, partner it with home made buffalo berry jelly.

Jet black package and a dark eyed white horse on the label, breathe in the big sky and endless grass. Look out across the hills, you can almost see the huge herds of buffalo.

Each packet is approx.1 lb.

$ 5.00 each

>> Shipping Notes <<
---
Prairie Walker Savory Bannock Bread Mix
The warm sun easing down, a large Dutch oven stew bubbling, an aromatic Savory Bannock in a cast iron fry pan with its back to the fire. What a wonderful smell and taste, it is so different, a perfect complement to any meal but in particular soups, stews, and chili. Break off a steaming crusty chunk and mop up the last of your delicious stew.

A deep-in-the-shadows green package with an old matriarch mare on the label. Walk this country with her, the huge sky, hawks hanging overhead, small delicate prairie flowers, the light haunting sound of the wind through the grass.

Each packet is approx. 1 lb.

$ 5.00 each

>> Shipping Notes <<
---
---
There was probably a number of Justice Coulees back when, it might not be where you wanted to end up. This biscuit mix is where you want to be. What meals do biscuits go with, pretty much any of them. JC Biscuits are quick and easy, add mayonnaise and milk, 12 minutes in the oven and you have soft, moist, very lightly sweet biscuits, melt a light touch of butter, maybe some honey, just so good.

Silver shimmer package offsets the stark lone tree in a Justice Coulee. You might want to go way around, look back on it as you ride away, could be youíll see a Shadow Rider, if I were you I would break my horse into a hard lope.

Each packet is approx. 1 lb.

$ 5.00 each

>> Shipping Notes <<
---
Redemption Ridge Chocolate Biscuit Mix
Look off the top of this ridge at this incredible country, it will feel like redemption, like things are right with the world. Itís often the small things that let us ease back on the day. With their very light chocolate flavor RR Biscuits can be that ease. Add mayonnaise and milk, 12 minutes in the oven, pour a steaming mug of coffee, or an ice cold milk, either is the perfect partner.

Brushed gold package with a warm sepia tone ridge, you just know how much country you could see so high up on this incredible Montana ridge, how it would feel to be up there touching that Big Sky.

Each packet is approx. 1 lb.

$ 5.00 each

>> Shipping Notes <<
---

---
Garden Gate Salad Dressing Mix

A warm sunny day, a basket of fresh vegetables from the garden, this dressing is a taste of summer. A perfect combination of sweet balanced with spices and herbs. Equally delicious as a dressing or dip, excellent relish tray complement, you canít walk away after the first taste.

Shining silver package with a warm summer day on the label. The afternoon cooling down, the heady scent of petunias and alyssum mixed with tomatoes and onions hanging in the softening light. Also available with a sugar substitute, same delicious flavor.




Each packet is approx. 2.3 oz.

$ 4.00 each

>> Shipping Notes <<

Sugar Free - The same taste but made with Splenda instead of sugar.

Each packet is approx. .7 oz.

$ 4.00 each

>> Shipping Notes <<
---
Montana Grassland Gift Boxes
The gift boxes are just the right gift to say thinking of you to your friends, thank you to a client, love you to your family. Our mixes are easy to make, they fit any family, they are so appreciated. We are proud of our Montana Heritage and our gift boxes show that.
---
The Traditional Family Gift Box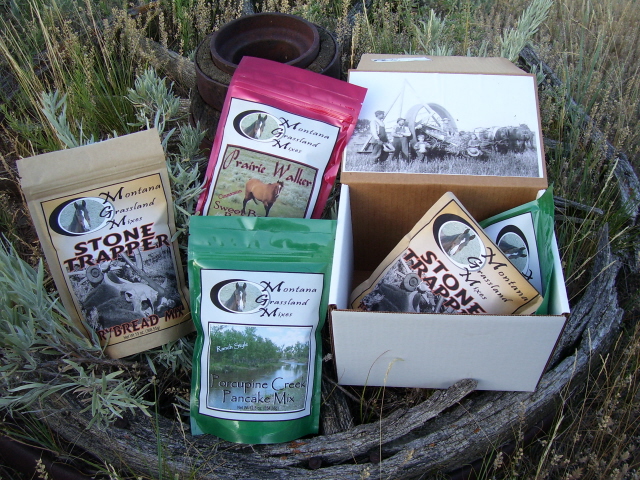 Top view of gift box

2 Stone Trapper Frybread Mix Packets

2 Porcupine Creek Pancake Mix Packets

1 Prairie Walker Sweet Bannock Bread Mix

1 Garden Gate Salad Dress Mix - Reg.
---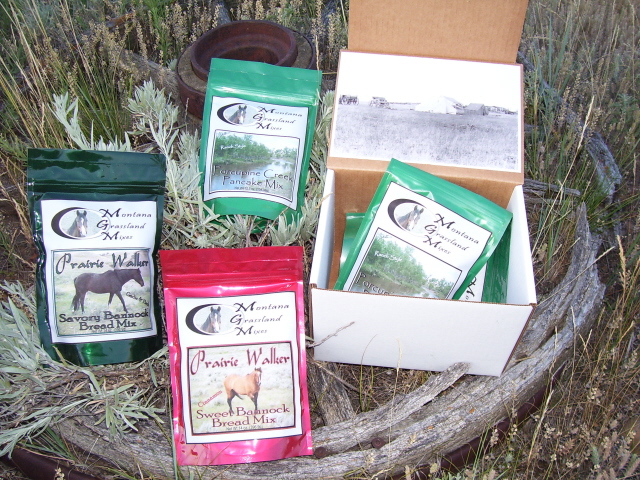 3 Porcupine Creek Pancake Mix Packets

1 Prairie Walker Sweet Bannock Bread Mix

1 Prairie Walker Savory Bannock Bread Mix

Top view of gift box
---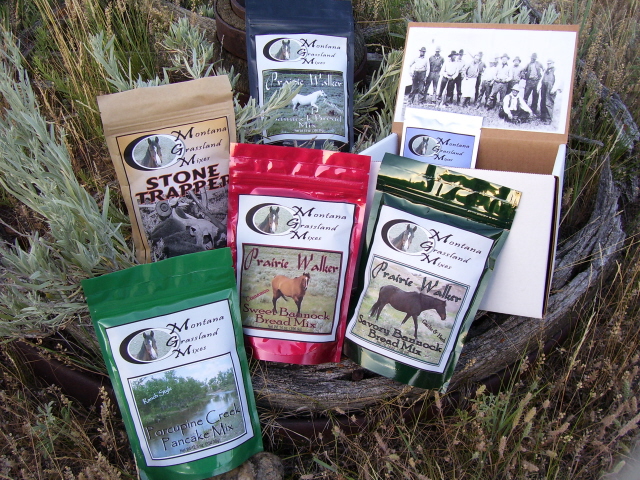 Top view of gift box

Ok here it is, not sure, then the

Chuck Box

is for you!

1 (one ) of everything

(Salad Dress Mix - Reg.)
Shipping Note:
Our automated system uses a shipping table, consequently it sometimes overcharges.
When your order is received I pack, weigh, and figure the best cost to ship.
I will immediately refund any overcharge. Please specify if you wish it shipped parcel or priority.
Thank you
MontanaGrasslandMixes.com
All Rights Reserved 2009